The Fall 2017 season begins for St. Augustine High School and senior QB Austin Reed, #14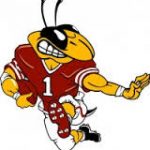 The Fall football season kicked off in NE Florida on Monday July 31st, and like all teams, the St. Augustine High School Yellow Jackets football team took the field in anticipation to earn a 15th District Championship in the last 16 years. Leading the Jackets offense this year will be senior quarterback, and third year varsity player Austin Reed #14.
While regular season game play doesn't begin until August 25th, the St. Augustine HS Jackets took the field on Saturday (8/12), scrimmaging Orange Park HS (Class 7A) in the annual North Florida Officials Association training at Oakleaf High School. The format consisted of 45 minutes of game play, including kick-offs and extra points. During the scrimmage, the starting offense for the Jackets scored on their first 4 drives, as the defense stepped up and kept the Raiders from scoring. Quarterback Austin Reed connected for three touchdown passes on the first three drives (1 – Lonell Harris (#1), 2 – Karim Brown (#8)) and threw for over 160 yards in the game. Running back Fre'quan Sparrow (#21) added the final score on a 12 yard run to close out the scoring and give the Jackets a 28-0 win. Next up for the Jackets is Clay High School in the annual Kickoff Classic preseason game at home on Friday, August 25th.