The Spring high school football season in Northeast Florida is in full swing now as The St. Augustine High School Yellow Jackets started their 2015 championship quest yesterday afternoon (4/27).  This opportunity to evaluate junior varsity and varsity players for the Fall season will finish up with the annual Spring game against the Bishop Kenny Crusaders at home in Brumley Stadium on Wednesday, May 20th, starting at 7:00 p.m.
You can follow all of the St. Augustine High School Spring and Fall football activities on their official website at www.staugustinehighschoolfootball.com.  We wish the best of luck to Quarterback Austin Reed and all of his SAHS Jackets teammates.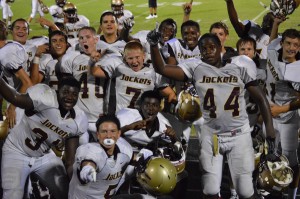 ---
This Wednesday (April 8th), the St. Augustine High School Yellow Jackets boys lacrosse team enter into the District Playoffs with a 10-7 record (4-0 in District play) finishing as the 1st seed from the regular season District play.  It has been a fun season of lacrosse for Austin Reed, #27, and all of his Jackets teammates.  After experiencing a very strong 8-2 start to the season the Jackets have lost 5 of their last 7 games to finish the regular season at 10-7.  Many injuries to key players and a very strong schedule against teams like Ponte Vedra, Fleming Island, and Nease High School's, all contributed to the tough end of the regular season.  The Jackets look forward to great play and enthusiasm to win a District title this week.
Austin Reed, #27, has enjoyed playing in the long-pole defensive backfield position and experiencing the fast pace, strength and skill level of the Varsity season.
---