In December 2017, the Florida Times Union newspaper (Jacksonville) release the names of their Super 24 prep football players.  This annual list is an honorable tradition to recognize the top 24 recruits of the 2018 class in all of Northeast Florida.  The list is selected by Times Union Sports Editor Justin Barney with input from other local coaches and recruiting analysts.
St. Augustine High School Yellow Jackets Quarterback Austin Reed (#14) was selected to be included in the Super 24 for 2017.  In a ceremony at the Jacksonville Jaguars vs Houston Texans game in Jacksonville on December 18th, Austin and the other Super 24 players and selected Coach of the Year, were honored on the field prior to the game. Click HERE to see the complete 2017 Times Union Super 24.
---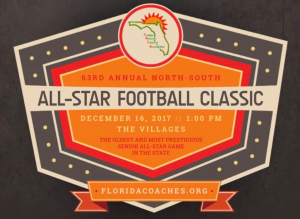 Looking back on the 2017 football season for St. Augustine High School (FL) Yellow Jackets quarterback Austin Reed: On Saturday, December 16th, Austin attended and played in the 63rd annual Florida Athletic Coaches Association North-South All Star Classic held in The Villages, FL.  Austin played with fellow Jackets player and long time friend Karim Brown (WR).  Starting the game and rotating each drive during the game with QB Marquez Glover from Ocala Vanguard, Austin threw for 240 yards and 1 touchdown during the game.  This helped Austin to be selected as the Most Valuable Player for the North team offense from the FACA coaches.
---