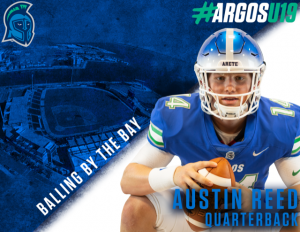 After spending the Fall 2018 and Spring 2019 season as a red-shirt freshman quarterback at Southern Illinois University in Carbondale, Austin Reed decided to declare to transfer away from SIU in April and enter the NCAA transfer portal. Austin was quickly recruited by several schools, including the University of West Florida. Thrilled to return to the State of Florida and play for one of the top division 2 teams in the country, Austin accepted the offer and will be playing as a UWF Argonaut in the Fall 2019.
The University of West Florida is a division 2 team located in Pensacola, FL. The team competes in the Gulf South Conference, arguably the best conference division 2 football. The UWF football team played for the D2 National Championship in 2017, as the school owns over 100 conference titles in all sports they compete in.
---
In December 2017, the Florida Times Union newspaper (Jacksonville) release the names of their Super 24 prep football players.  This annual list is an honorable tradition to recognize the top 24 recruits of the 2018 class in all of Northeast Florida.  The list is selected by Times Union Sports Editor Justin Barney with input from other local coaches and recruiting analysts.
St. Augustine High School Yellow Jackets Quarterback Austin Reed (#14) was selected to be included in the Super 24 for 2017.  In a ceremony at the Jacksonville Jaguars vs Houston Texans game in Jacksonville on December 18th, Austin and the other Super 24 players and selected Coach of the Year, were honored on the field prior to the game. Click HERE to see the complete 2017 Times Union Super 24.
---